Global diversity of payment methods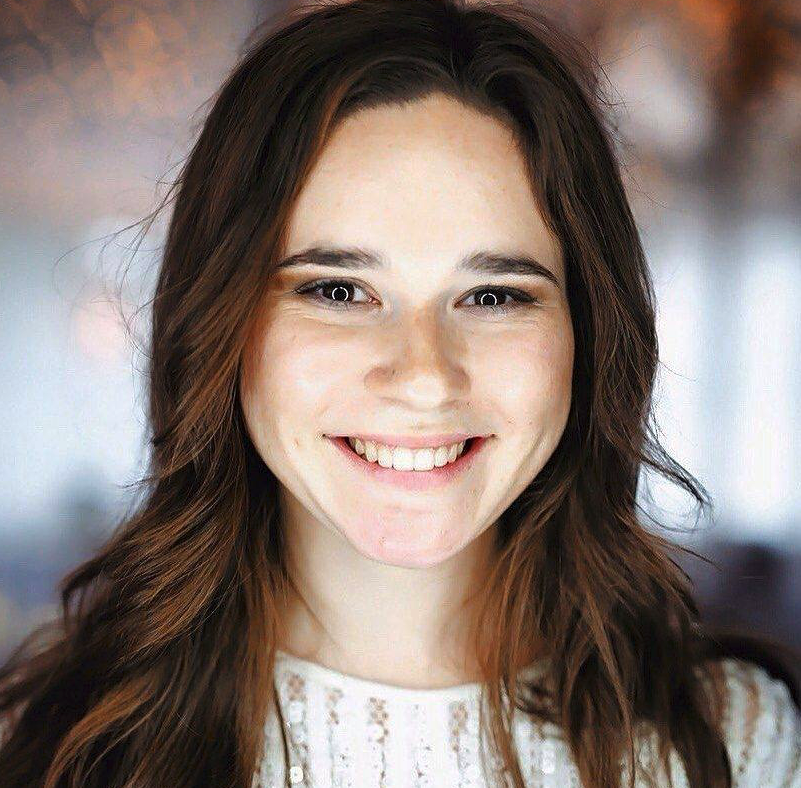 Any company involved in e-commerce business deals with online payments on an everyday basis. Preferable payment methods vary country by country and even within one country offering only a few payment options is not enough.


Choice of a payment method
Many factors affect the choice of the payment method during the online purchase such as:
Demographic factors (age, sex, income level, education level, employment, etc.);
Device used for the online purchase;
Quality of the Internet connection;
Additional fees for using a particular payment method;
Cost of the online purchase;
Payment security;
Personal habits and lifestyle.

Concerning the events industry, the category of the event (business events, sporting events, festivals, exhibitions, etc.), target audience, ticket types and other factors might also suggest what kind of payment options should be offered.
So, how to choose the most suitable payment method?
Define the target audiences, who will desire to attend your event.


Create a customer path to understand who and how will most likely purchase the ticket to your event. Is it a young adult, who usually makes purchases with a digital wallet? Or do your attendees wish to pay for a business conference tickets by a bank transfer? Your task is to offer the most suitable payment method for every target customer group defined.


Decide what kind of purchases related to the event are expected after the ticket purchase. For example, purchasing event merchandise or some additional services (parking, camping, etc.). How attendees would like to pay for these goods and services? If the desired payment method is different from the ticket purchase method, it has to be added to the payment options in order to increase the sales.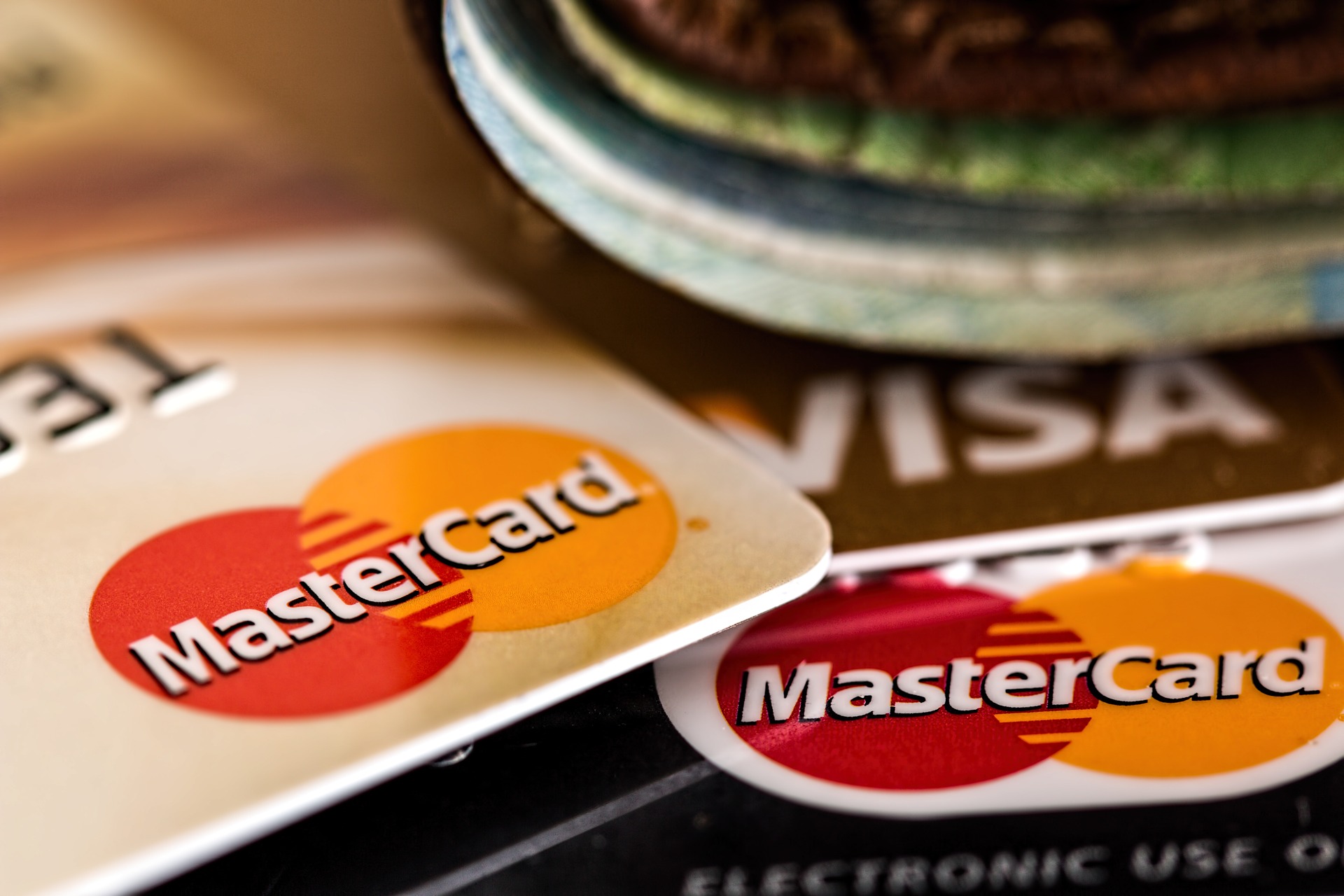 Importance of the payment methods
In general, choosing the correct payment methods might require a complex research of event attendees' demography, behaviour, preferences and possible limitations. The importance of payment options should not be underestimated since it's the final step before attending the event, meaning that your marketing tactics have already worked well, the dates and location are suitable, a potential attendee wants to attend the event and pay for it. The worst thing at this stage is to make him/her to change this decision! Every customer wants to pay simply, quickly and without any additional steps in the payment procedure. If an event organizer accepts all the desired payment methods, the conversion rate is guaranteed to be higher.


Payment methods diversity worldwide
There is a lot of research available on the Internet, which describes in detail the payment trends per each region. For example, according to Eshopworld, the payment methods on the charts below are the most popular for online purchases in Finland, Canada, Mexico and China. As the following charts show, the purchasing preferences of the customers vary by country a lot, and event organizers should pay attention to that fact, especially if they organize international events.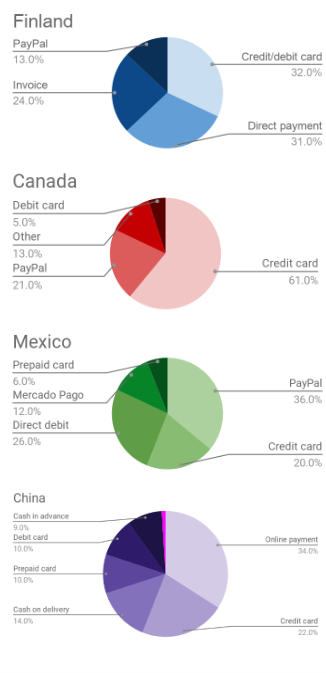 Source Finland: https://www.eshopworld.com/blog/finland-ecommerce-insights-2017
Source Canada: https://www.eshopworld.com/blog/canada-ecommerce-insights-2018/
Source Mexico: https://www.eshopworld.com/blog/mexico-ecommerce-insights/
Source China: https://www.eshopworld.com/blog/china-ecommerce-insights-2018/
Even within Europe payment preferences are very diverse. In addition, some European countries have their own national payment methods that are uncommon anywhere else. For instance, SOFORT in Germany, Switzerland and Austria, iDEAL in the Netherlands, Swish in Sweden and Giropay in Germany. However, it is still possible to satisfy the needs of every customer from all over the world. The question is how?


Online payment softwares
Fortunately, nowadays there are services, which allow e-commerce businesses to accept the majority of payment methods online. For example, Liveto partners with Stripe to make sure that your event attendees can pay for the ticket or merchandise as they want to.


Key advantages of partnering with online payment softwares are:
Payment security. According to eConsultancy survey, 58% of respondents dropped out of the checkout page because of the concerns about payment security. Payment software guarantees the payment security.


Global scale of payments accepted.


Always up-to-date payment solutions integrated to your website.


Reduced money and time resources needed for maintenance of the system.

To sum up, payment is an essential part of the whole user-experience about the event. Event organizers should ensure that the payment methods are sufficient for the location and category of the event, payment procedure is smooth and easy, payments are secured and appropriate for the target customer groups, and many other small things that matters for the best conversion. Every detail is important for your event sales success, so pay attention to make people pay for your event!
Sources:
Finland e-commerce insights. Retrieved from https://www.eshopworld.com/blog/finland-ecommerce-insights-2017/
Canada e-commerce insights. Retrieved from https://www.eshopworld.com/blog/canada-ecommerce-insights-2018/
Mexico e-commerce insights. Retrieved from https://www.eshopworld.com/blog/mexico-ecommerce-insights/
China e-commerce insights. Retrieved from https://www.eshopworld.com/blog/china-ecommerce-insights-2018/
eConsultancy survey. Payment security. Retrieved from https://econsultancy.com/blog/